Word has been going around the internet that several Chinese Manufacturers (specifically, AGM and A&K) have been shut down.
Some rumors have been going around. Some say that CYMA bribed the officials to get rid of the competition, although I personally think that is a little too far fetched. Others say that China is simply cracking down on the companies because they are making too much money (Communism, for the lose?). One of the scariest possibilities is that that some molds and parts used on airsoft guns are being used for real guns.
As of now, things are pretty hazy, although it is said that A&K has stopped making guns, and the owner of AGM was actually arrested.
According to a news website, the Chinese police said that they are confiscating guns simply to reduce the general gun craze, in light of recent events in the US. It could be a cover for some bigger motive, or it could just be the government trying to protect it's citizens. I haven't been able to figure out which from the conflicted accounts on the internet.
Police officers gather airsoft guns for confiscation.
The big question is whether this spells the end for the Chinese clones. The internet says no, although we all know how much the internet can be trusted...Apparently the Chinese manufacturers are back in business, although this is certainly a setback. One website says that the reason for the confiscation and destruction of the airsoft guns was because of smuggling issues. It is possible that the companies are back in business, but with different security proceedures. That's just my speculation.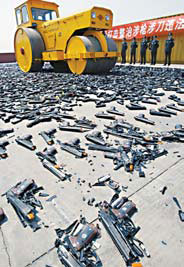 A steamroller? Is that necessary?!
_________________
Independent Airsoft
Check out my airsoft perks at my profile! Make sure to go get your own at airsoftretreat.com!
Search "Airsoft Perks Project"


"The unexamined life is not worth living."--Socrates
"The unexamined life is not worth living, man."--Demetri Martin