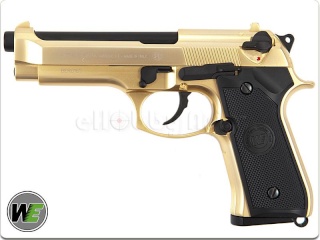 24k Gold Plated M92
A new level of impracticality has been reached with this 24k Gold M92 made by WE. Note, it's gold
plated
not solid gold, hence it's only $135 from eHobby Asia (buy it here!). In my opinion, it actually doesn't look that nice--silver and black goes better for a pistol, but at least you can say that you own a real gold airsoft gun. It could be of use beyond display too. It fires at 320 FPS with (green gas) and has a 25 round mag. For the price, that's not too shabby. Now all you need is a gold plated pistol case for it to go in.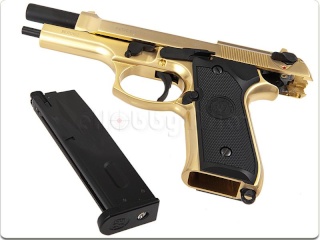 Single stack mag?
_________________
Independent Airsoft
Check out my airsoft perks at my profile! Make sure to go get your own at airsoftretreat.com!
Search "Airsoft Perks Project"


"The unexamined life is not worth living."--Socrates
"The unexamined life is not worth living, man."--Demetri Martin