Could it be? Paintball BBs that don't screw with your gun? I don't know personally, but Red Wolf Airsoft claims it's the truth. They apparently have a hard plastic shell that will shatter on impact but not inside of your gun. The "paint" is water based, so it can be wiped or washed off easily. From what I can tell, it's basically colored water. If my assumption is correct, then even if it does break inside a gun, it shouldn't do too much damage. Not as much as waxy paintballs or powder BBs will do at least...
http://redwolfairsoft.com/redwolf/airsoft/AdvanceSearchResult?productname=Hellfire&brandId=&search=true&productcode=Hellfire&mode=simple
The fact that it is only tested on hard surfaces make me wonder if it will shatter on skin or fabric, but who knows? They're pretty expensive ($20 for 500?!) but they might be nice to have if we ever host a game where there is a prize for the winners.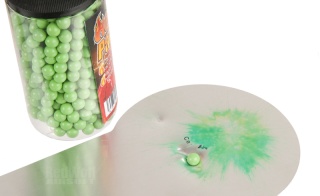 _________________
Independent Airsoft
Check out my airsoft perks at my profile! Make sure to go get your own at airsoftretreat.com!
Search "Airsoft Perks Project"


"The unexamined life is not worth living."--Socrates
"The unexamined life is not worth living, man."--Demetri Martin