Time for another ASGI themed blog post!

Airsoft GI just started their daily "Shocker" deals today. Every weekday from noon to midnight, ASGI will have major discounts on 1-3 of their items. Combine that with a coupon code and you can save quite a bit of money. There is a $7 M4/M16 High Cap Mag right now, which is comparable to the prices you get when buying directly from China.
Click the image below to check out the deal for today: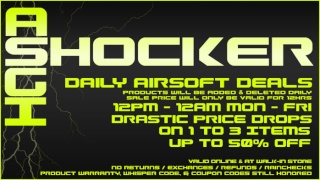 I'm personally looking forward to seeing future deals. I'm sure it is a ploy to get airsofters to check their website daily, and it has certainly worked on me.
_________________
Independent Airsoft
Check out my airsoft perks at my profile! Make sure to go get your own at airsoftretreat.com!
Search "Airsoft Perks Project"


"The unexamined life is not worth living."--Socrates
"The unexamined life is not worth living, man."--Demetri Martin